Small Scale Gasification Power for Forests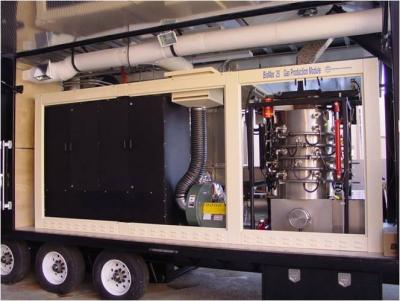 The Biomax 25 gasifier produces roughly 25 kw of electricity using syngas created from woody biomass. Clearly such a gasifier/generator would be ideal for powering remote areas located in the middle of forests. The superiority of such a plant over a photovoltaic plant with the same electrical output can be shown by noting that the capacity factor for solar is .20 while for the Biomax 25 the CF is .65. Capital costs are approximately half for the gasification system compared to PV, and
cost savings over a 10 year period are over $1 million in favour of the Biomax
.
The
US Forest Service and the DOE
have been encouraging the use of such systems via grants. Recently, the Forest Research Station in Winnfield, Louisiana, has installed a Biomax 25 system in order to take advantage of its waste biomass to power its operation, plus sell excess power to the grid utility.
"The BioMax 25 is an innovative, cutting-edge device, which will strengthen (the Winn ranger district's) environmental, energy and transportation management," according to information provided by the U.S. Forest Service. "In a ground-breaking, first-of-its-kind partnership, the National Forest System, Forest Research and State and Private Forestry (the three branches of the U.S. Forest Service all of which are represented at the Winn station) have developed a program to provide cheap, clean electricity while reducing dangerous forest fuel woody biomass."



Soon, the scientists of Forest Research at the Winn station plan to begin producing synthetic diesel with the unit as well

. But more than anything, the unit will provide a platform from which the scientists can explore a number of issues, including what sorts of gases, at what levels, different types of wood can generate. The answer to this question, and others like it, can change much. _Source
Small scale gasification projects, such as this project, make ideal use of a local and regional availability of low cost feedstock in order to generate energy and liquid fuels which might otherwise come at a higher cost.
Such small scale plants are already proving profitable in remote locations of India, in Iraq and other small nations. Remote farms, ranches, forestry installations, and other enterprises that need power--but the cost of connecting to the grid might be prohibitive--can now consider this option. Such small gasifiers can be made portable on a standard semi-trailer, allowing a small mobile operation to carry its power generation with it.
More information at
this PDF describing small scale biopower systems
.
List of
suppliers for gasification and pyrolysis systems
.
List of suppliers for
small and micro CHF
systems.
Labels: gasification